Half-Year Cheer Program
MGA Cheer Extreme is perfect for those kids who need to build up their confidences, prepare for Middle School Cheer Tryouts, are interested in competitive cheer, love to be a part of a team, and most importantly, love to have fun! Our half-year programs are a terrific way to encourage your kids and foster their passion. Contact us today to get your child registered for our half-year cheer program!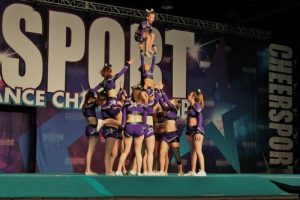 Informational Meeting: November 3th 2018
Practice Day – Tuesday from 6:00-7:30 pm-Macon
Practice Day – Macon 6:00-7:30 pm-Tifton
First Team Practice – November 6th, 6:00-7:30 pm-Macon
First Team Practice – November 5th, 6:00-7:30 pm-Tifton
---
Fill out the form below for more information or give us a call!
Macon – (478) 201-9528
Tifton – (229) 396-5567
---
FAQs
Q:   How often will the half team practice?
A:  The team will practice 1 time a week.  They will be required to attend a Choreography Camp.
Q:  What day do they practice?
A:  Tuesday-Macon Location 6:00 pm to 7:30 pm  Monday-Tifton Location 6:00-7:30
Q:  What is the Cost? – (Season runs November to March)
A:  The cost is $190 a month.  That includes competitions, practices, additional tumbling class,  choreography camp, music fees, USASF fee, and Uniform.
Q:  Is there an additional cost?
A:  Yes, each person will need to pay a $50 Registration fee
Q:  Do you offer fundraising?
A:  Yes we offer monthly fundraisers to help offset your monthly fees.
Q:  How many competitions do they attend?
A:  They will attend two competitions.  On March 16th, 2019, the teams will compete in Macon, Georgia.  The second competition is on April 13th at 6 Flags of Georgia
Q:  Is practice mandatory?
A:  Yes because we are working on a short season your child must attend all practices.  The only reason to miss practice is illness and death in the family